In today's digital landscape, having a business website is no longer a luxury – it's a necessity. But as a budget-conscious entrepreneur, you might be wondering: how much should a business website cost without breaking the bank? Thankfully, there's a savvy solution that ensures you get the best deal while staying within your financial limits.
Introducing the Website Price Calculator: A Budget-Friendly Tool
Meet the free website price calculator from Onwebsol.com. This intuitive online tool takes the guesswork out of website costs.
No more combing through endless price quotes or dealing with hidden fees. With the website price calculator, you're in control.
Simply select the pages and features you need for your website, and let the calculator do the rest. It's an effortless way to get an accurate estimate of how much your website will cost, tailored to your specific requirements.
Key Benefits of the Website Price Calculator:
Easy-to-understand breakdown of design and functionality options.
Instant visualization of cost implications for different features.
Accurate figures for confident decision-making.
Elimination of guesswork and uncertainties.
Empowerment to align aspirations with budget constraints.
Ready to embark on your web design journey armed with accurate insights? Discover the power of the website price calculator today and pave the way for a successful online presence.
How to Calculate the Cost of a Website
Unraveling the mystery of website costs has never been easier. The user-friendly website price calculator breaks down every facet – from design nuances to functional intricacies – into clear and accessible choices.
Whether you're eyeing a streamlined one-page site or envisioning a robust multi-page e-commerce platform, the calculator accommodates all scenarios. Embrace simplicity and make informed decisions with just a few clicks, gaining a crystal-clear grasp of the financial commitment necessary to establish a polished online presence.
How the Website Price Calculator Works
Curious about the cost of creating your dream online store? The Onwebsol.com website price calculator takes the guesswork out of budgeting for your project. Follow these five simple steps to get a clear estimate:
Step 1: Define Your Vision and Select Your Industry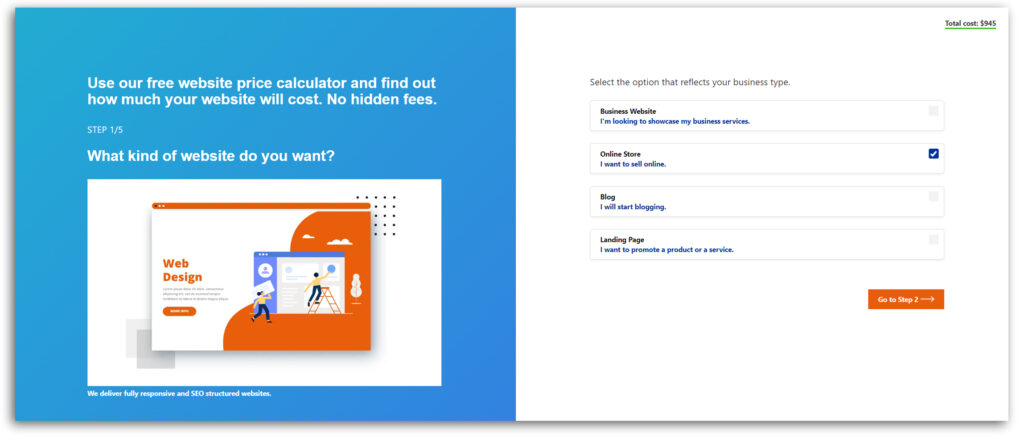 Your website should reflect your business vision. Begin by specifying what kind of website you're looking to create (presentation website, online store, blog, or a single page website).
---
Step 2: Tailor Your Website Features
Begin by specifying the niche you are in. Whether it's fashion, health, tech, or any other sector, this choice helps tailor the process to your unique needs.
Choose the features that will make your online store stand out.
Need a service page to showcase your offerings? Want a live chat feature to engage with customers in real-time?
Customizing your website's functionalities ensures it aligns with your business goals.
---
Step 3: Infuse Your Distinctive Design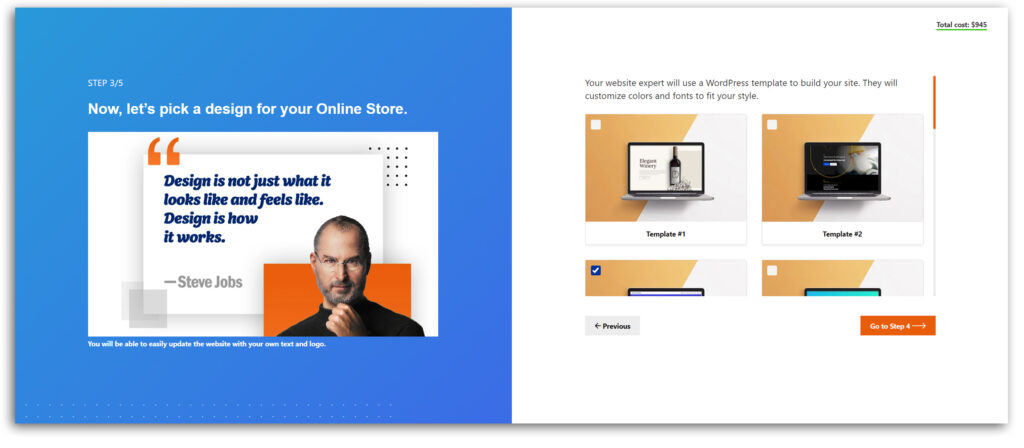 Design isn't just about aesthetics—it's about creating a seamless user experience. Browse through a selection of tailored design templates.
Once you've picked one, the specialists at Onwebsol.com will personalize it with your brand colors and fonts, giving your store a unique identity.
---
Step 4: Set Your Timeline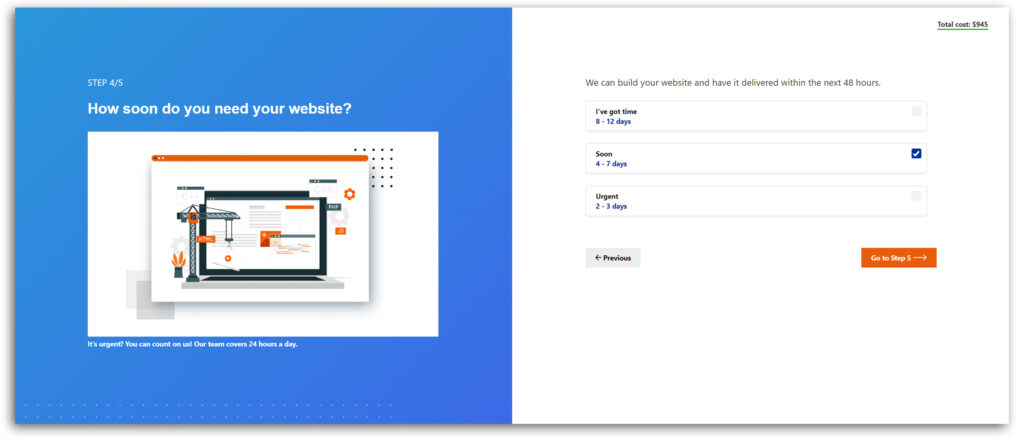 Timeframe options designed to fit your schedule. If you're in a hurry, opt for the expedited 2-3 day delivery. If you have more time to spare, choose the 4-7 day option. This flexibility ensures your website is launched precisely when you need it.
But here's the deal: if you're in a rush, we'll even burn the midnight oil – no quality compromised.
Keep in mind, the urgent option might come with a slightly higher cost, but your website's excellence won't be compromised.
---
Step 5: Review and Estimate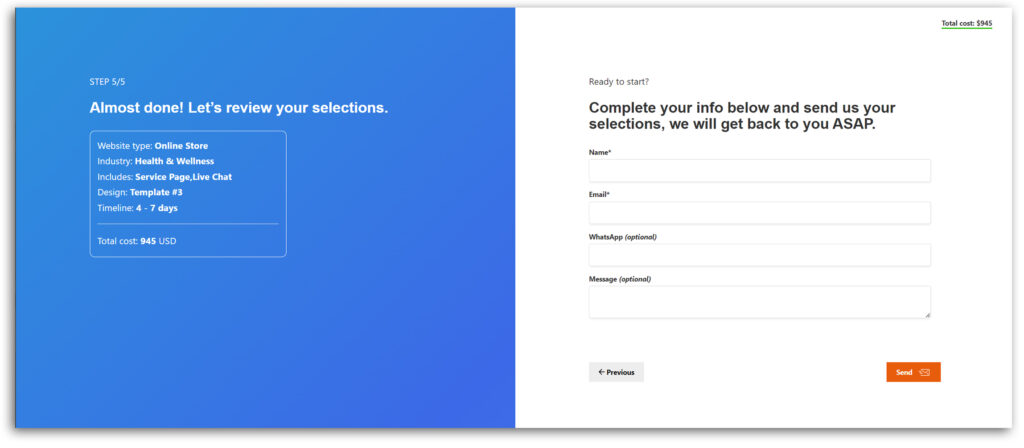 With the information provided from your selections, use the Onwebsol's website price calculator to get an estimate of the project's total cost. This tool eliminates uncertainty by giving you a clear projection of expenses based on your chosen features and design.
Ready to see how affordable your dream online store can be? Try out Onwebsol's Website Price Calculator now. Simply enter your preferences and get an instant estimate. It's the first step towards turning your vision into a captivating online reality.
Getting the Best Deal: A Fair Price for Your Website
"What's a fair price to build a website?" It's a question on the minds of many business owners. The answer lies in finding the balance between quality and affordability.
With the website price calculator, you can explore different scenarios and make informed decisions that align with your budget. Plus, the calculator eliminates any surprises – you'll know exactly what you're paying for before diving into the project.
Website Design Cost Estimate Made Easy
No more wondering if you're getting a good deal or fretting over unexpected expenses. The website price calculator empowers you to make confident choices, ensuring that you get the most value for your investment. Say goodbye to complicated pricing structures and hello to transparency and control.
Ready to Get Started?
If you're ready to embark on the journey of building a business website, start by visiting https://onwebsol.com/website-price-calculator.html. Take advantage of the free website price calculator and discover how affordable a high-quality website can be. Say goodbye to budget constraints and hello to a stunning online presence that doesn't break the bank.
Conclusion
Budget-conscious business owners can now breathe easy when it comes to website costs. With the website price calculator, you have the ultimate tool to create a professional online presence without exceeding your financial limits.
Get the best deal, explore different options, and pave the way for your business's digital success.